BiographyList of Clients
With more than 25 years' experience working for clients in fields ranging from robotics to retail, Cheryl Landes crafts crystal-clear technical communications that enable users to truly understand how to use products and follow procedures.
Her previous training in journalism taught her how to approach any subject matter fearlessly and then organize the information in a logical and reader-friendly way. She works remotely with clients throughout the United States and worldwide. Her clients include Brasfield & Gorrie, MadSkills, Pearson Education, Schneider Electric, Soteica Visual MESA, and Target.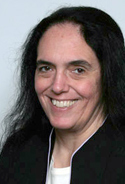 Clients praise Cheryl for her depth of knowledge and experience, ability to solve problems, flexibility, and professionalism. In one client's words, "I was and am in awe at Cheryl's ability to take the complex and chaotic and make it understandable and usable. No matter what product change I threw at her, there it was…right where it should be in the manual. Cheryl also was incredibly helpful with marketing copy; using her gift for the clear and concise instead of using a lot of technical jargon. She is patient, incredibly focused, hard-working, and cares deeply about getting it right."
Since 1995, Cheryl has been a registered business as Tabby Cat Communications in Washington State, which has been a Women's Business Enterprise (WBE) in Washington State since 1996.
Cheryl has a master's in education from the University of Phoenix, where her concentration was online learning for adults, as well as a bachelor's degree in journalism from the University of Oregon. In addition, she typically completes three training activities a year to help keep her technical and writing skills up to date.
Also, Cheryl enjoys sharing her knowledge with others. She is a regular speaker at technical communication conferences and meetings throughout the United States and Canada. She has mentored five fledgling indexers, who now operate successful freelance businesses of their own. In 2011, the Society for Technical Communication (STC) recognized her outstanding contributions to the fields of technical communication and findability with a Fellow award, the highest honor bestowed on a society member.
Cheryl gives back to her community by speaking to job seekers and beginners in her profession. She helps with special events hosted by the Vancouver (Washington) Parks and Recreation Department, The Historic Trust, and Clark County's annual Recycled Arts Festival. Since 2017, she has volunteered on the Marketing and Events Committees at Animal Aid, a no-kill animal shelter in Portland, Oregon.
Her publications include journal articles and handbooks on technical communications and findability, as well as articles and books for the general public on Northwest travel and history. She wrote the "Findability" chapter in The Language of Content Strategy, which set the standards for definitions and best practices in the emerging field of content strategy.
Cheryl's many hobbies include travel, hiking, photography, quilting, and listening to jazz and classical music.
Aircuity
Bluefin Robotics
Brasfield & Gorrie
The Content Wrangler
Cornerstone Commissioning
Creative Media Development (CMD)
Crowley Maritime Corporation
Diagnosys
eCameron
Heinz Marketing
LavaCon
Lucent Books
MadSkills
Mahoosuc Guide Service
Minder
Mountaineers Books
National Resource Management
North Atlantic Publishing Systems
Pearson Education
PC Database Solutions
Schneider Electric
Soteica Visual MESA
Target
Town of Acton, Massachusetts
XML Press