Speaking TopicsSpeaking VenuesUpcoming Events
Cheryl receives many invitations to present what she knows about technical and marketing communications at conferences, meetings, colleges, and universities.
Technical communications—Technical writing, interviewing, conceptualization and design
Indexing technical documentation and online help
Findability—Search engine optimization (SEO) and usable navigation
How to work with contract agencies
How to interview employees or contractors
Technical marketing communications
Marketing in a tough economy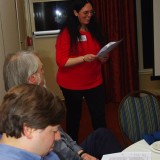 Society for Technical Communication (STC) chapter meetings, webinars, and conferences
Intelligent Content Conference
MadWorld
Special webinars hosted by Adobe, SDL, and MadCap Software
American Society for Indexing (ASI) chapter meetings and conferences
Indexing Society of Canada (ISC) conferences
Middlesex Community College
Washington State University
Portland State University
Corporate events
More speaking events are coming soon! Watch this page for updates.